DME SOCCER
INTRODUCING OUR DME YOUTH SOCCER!
DME Sports Youth Soccer is a recreational based soccer program designed to introduce the basics of the World's most popular game!
To maximize player-coach interaction, our coaches utilize small group sizes to enhance learning and fun via training and games designed to teach soccer fundamentals. Whether your player has played before or is new to the game, the DME Future Stars program is the perfect way to learn to play and enjoy the game!
Ages 3 – 10 years old
For More Info Contact:
Soccer Director: Nick Monsanto
Call: 904.770.6165
DME SOCCER ACADEMY
We are so excited to announce our NEW SOCCER ACADEMY!
CONSIDERING HIGH LEVEL CLUB PLAY?
NEED TO IMPROVE FOR COLLEGE SCHOLARSHIP OPPORTUNITIES?
WANT TO COMBINE SOCCER WITH YOUR EDUCATION?
The DME Sports Soccer Academy is uniquely designed and built within our campus environment to balance school and soccer to help you achieve your education and athletic goals.
DME Soccer Academy provides a distinctive opportunity for intense, elite soccer training under the tutelage of our high- level soccer coaches. For the inaugural year of DME Soccer Academy, the number of participants will be limited to allow us to focus on the individual development needs of each player. If you choose to combine education with our soccer program, Xceed at DME provides a strong support system for our student-athletes to help them achieve their academic and athletic goals.
With options for boarders and commuters, National and International players, as well as 3 & 5 days per week plans, DME Soccer Academy will customize a plan for your player's needs and help you succeed!
For More Info Contact:
Soccer Director: Nick Monsanto
Call: 904.770.6165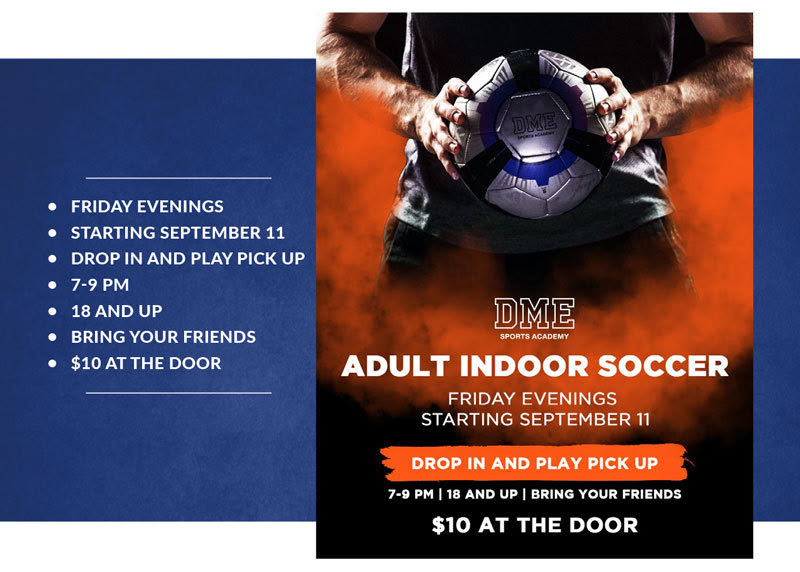 DME BASKETBALL TRAINING
COME TRAIN WITH US
NEW DATES:
Monday / Wednesday / Thursday
5:00pm – 6:30pm
All Ages – Elementary / Middle School / High School
Call Coach Ricky – (407) 361 – 5568 for more info!
MEET OUR NEW WOMEN'S BASKETBALL COACHES
Rickey Claitt
DME Women's Basketball Head Coach
Rickey Claitt played at a very high level in the Pac-12 at Oregon State in the year 07′ – 09′. He played professionally overseas in Denmark and Germany for 5 years! During his career, he began training and coaching players and has been developing players for the last 9 years! He has been coaching girls basketball for 5 years and had great success with the Girls' Adidas Gauntlet Platinum 2020 team, which graduated 7 Division-1 female athletes! He coaches as an assistant for DME Women's in 2019 and has now elevated to the Head Coach of DME Women's Basketball! His grind and relentless effort to challenge and elevate his players' skill, fundamentals, and game are unmatched!
Jermaine Ashley
DME Women's Basketball Assistant Coach
Coach Jermaine has a talent for connecting with young athletes that want to further develop their skill to either enjoy the sport socially or to take it to the highest level possible. Jermaine has been coaching girls basketball for over 5 years at various levels, including Lake Howell High School (2014 -2015) and Nike Girls Elite Youth Basketball League, where he has cultivated relationships with multiple college coaches and scouts. His passion for the game means he's always willing to go the extra mile for his players. He also takes pride in trying to make sure each student-athlete takes something away from the program they are involved in.
Been coaching/developing players for the last 9 years
Has been in girls basketball for the last 5 years
Coached DME GIrl's Adidas Gauntlet Platinum 2020 team which graduated 7 D-1 female athletes
Post Grad Boys Coach at DME in 2018
Assistant Women's Coach at DME in 2019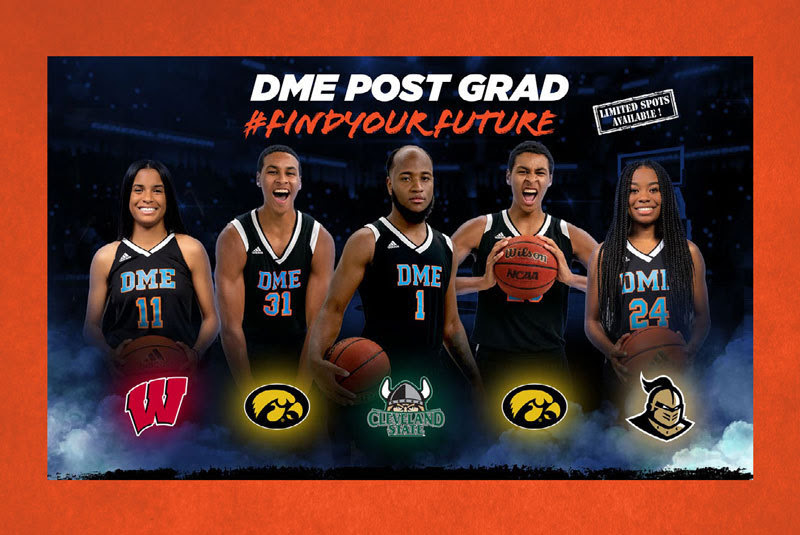 WELCOME TO THE FAMILY
We also want to recognize those who are joining the DME family and will be joining us in the 2020-2021 season!
HARD WORK PAYS OFF
Here are this week's student-athletes whose hard work has paid off, on and off the court!
DME ACADEMICS
We are so excited that we have officially started school! DME Sports Academy has a commitment to academic development, athletics, and personal growth. We are looking for students who share those ambitions to be a part of our student body. We closely review your prior academic performance and athletic history. Email 
education@dmesports.com
 for more info!
YOU CAN STILL APPLY AND ENROLL HERE
DME HOCKEY
OLD DOGS NEW STICKS – TRY IT BEFORE YOU BUY IT!
Daytona Ice Arena will have a "free day" to try our Old Dogs New Sticks on September 13th from 4:15-5:15pm. If participants would like to borrow equipment to try out this great program, please arrive an hour prior to the session (at 3:15).
REGISTER HERE
DME YOUTH HOUSE LEAGUE – FALL 2020
Our (Fall) House League sessions have started and you can still sign up! This has a weekly cross-ice game format for players to experience their first hockey game. This 8-week program gives players game scrimmages weekly with bench coaching and officiating so they can begin to learn the rules of the game. The Daytona Ice Arena house league prepares players for statewide travel hockey play.
ADULT HOCKEY LEAGUE CHAMPIONSHIP SUNDAY!
Make sure you come out for Championship Sunday for our Blue Out Adult Hockey League! We will have drink and food specials available! We will start the event off with a Free Old Dogs New Sticks Session, Followed By 3 Championship Games! Check times below:
HOMESCHOOL ACTIVITIES
ATTENTION ALL HOME SCHOOL STUDENTS!
Looking to get some athletic activity during the day? Need some physical education?
The HomeSchool Athletic Academy hosted at DME is the perfect place for you!
Starting September 14th
For more information or questions, contact Katie (904) 607 – 5518.
DME VOLLEYBALL
UPDATE! SPRING CLUB VOLLEYBALL: NOW AGES 16 AND UNDER
WE HAVE SIGN UPS OPEN FOR SPRING TRYOUTS AGES 16 AND UNDER!​
OCTOBER 15TH
5:00 – 6:30pm / 11 year olds 7:00 – 9:00pm / 13 year olds
OCTOBER 16TH
5:00 – 7:00 / 12 year olds
7:00 – 9:00pm / 14 year olds
7:00 – 9:00pm 16 year olds
OCTOBER 17TH
10 – 11am / 11 & 12 years old
11:30 – 1:00pm / 14 year olds
1 – 2:00pm / 14 year old
2 – 3:00pm 15 & 16 years old
LET'S STAY SOCIAL
Don't forget, our inbox is always open! Ask us any questions through any of our social media platforms! Have a certain question for a specific coach? Just let us know when you message us!
Check out our videos here: